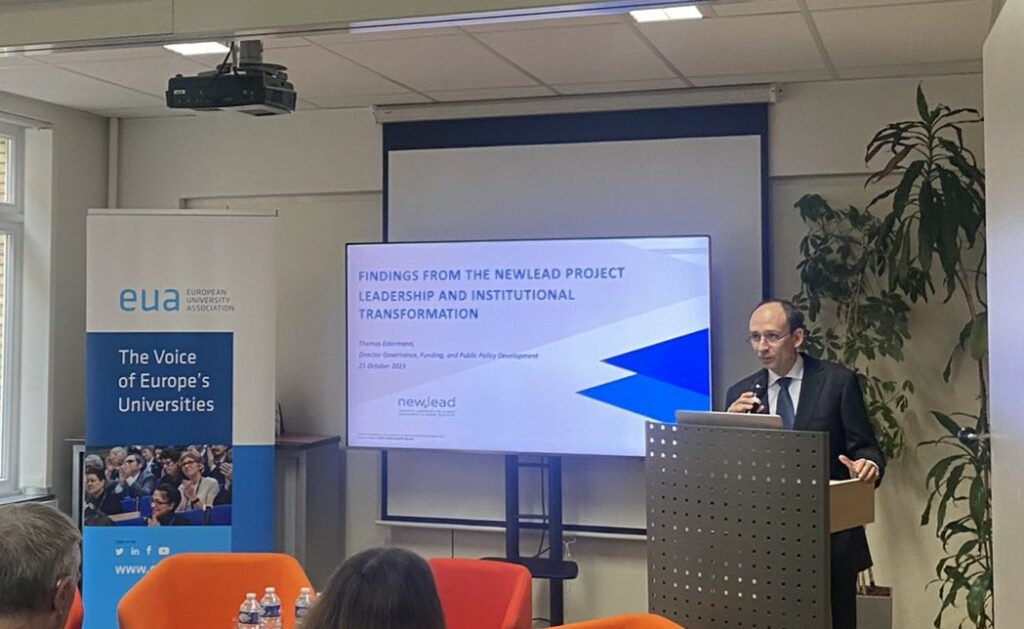 Brussels, 25 October 2023. On Wednesday 25th October, Crue participated as project partner in the Final Event of the NEWLEAD Project, organised by the European University Association in partnership with the Flemish Interuniversity Council (VLIR). The final event, led by Josep Maria Garrell, President of EUA, brought together project partners and stakeholders to reflect on the outcomes of the project and discuss how to shape the future of leadership development for university leaders in Europe. This occasion provided a platform to exchange on the challenges facing current and future university leaders within the ever-evolving landscape of higher education. Also, the event focused on strategies to support and facilitate sustainable and impactful leadership development initiatives across Europe and present EUA's plans in this respect.
Garrell stated that leadership development plays an essential role for HE institutions and will be fundamental in achieving the vision for the future of the sector as established in EUA's Universities without walls. He highlighted that to achieve this vision we "will need leaders that are able to drive the transformation". Based on the work carried out by EUA in the NEWLEAD Project, as well as in other projects such as USTREAM and LOTUS, Garrell explained that building on EUA's work, which has taken on a holistic approach to leadership, "for institutions, professional development and capacity building should be a priority".
President Garrell highlighted that "the project has paved the way for what EUA will do from now on in the field of leadership development". He announced that EUA will include "leadership at individual and system level in their work" and he presented EUA's proposal to "define, create and develop a pilot innovative leadership development program". The program, that will be developed by EUA and advised by experts, will build from the NEWLEAD project experience with the aim of supporting and guiding EUA members and offering a unique compliment to national initiatives and programmes that already exist.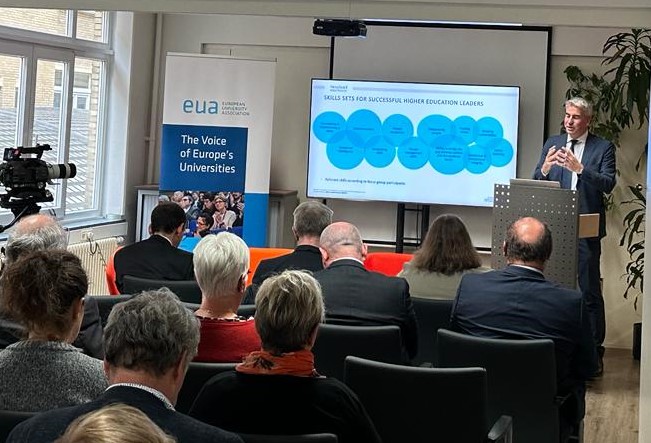 During the event, Thomas Estermann, Director of the Governance, Funding and Public Policy Development, presented the key findings and recommendations of the NEWLEAD project. He explained that, as well as identifying the necessary skills for HE leaders and current challenges faced both at an institutional and at a system level, the project has brought the topic to the attention of European and national policymakers. It has shown that there is a need to establish links between leadership development and institutional transformation in the context of the constant crises that universities face and that there is currently insufficient support for the former across Europe.
Estermann explained that the project shows the need to take on an approach to leadership that is strategic and stated that providing sufficient financial support to leadership development programmes will be fundamental to respond to expectations set out by European institutions.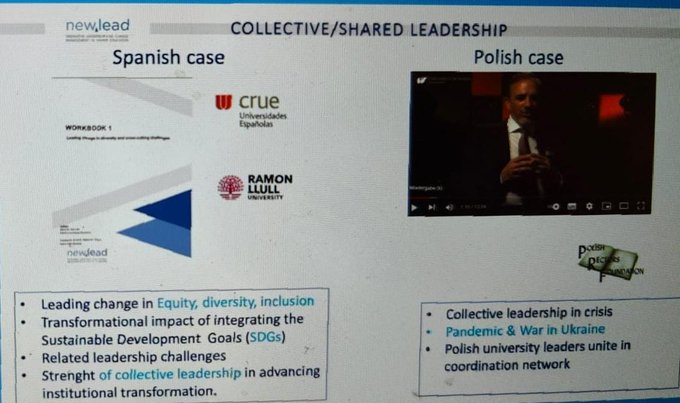 The NEWLEAD Project on Innovative Leadership and Change Management in Higher Education
The NEWLEAD Erasmus+ supported project started in 2020 and has focused on Innovative Leadership and Change Management in Higher Education. It has been dedicated to enhancing the capacity of university leaders across Europe to effectively navigate change. The project has addressed institutional leadership through several transversal topics, such as institutional transformation, collective leadership, female leadership in higher education, and sustainability. Various NEWLEAD activities highlighted the importance of leadership development for institutional transformation in the face of constant change and global pressures.